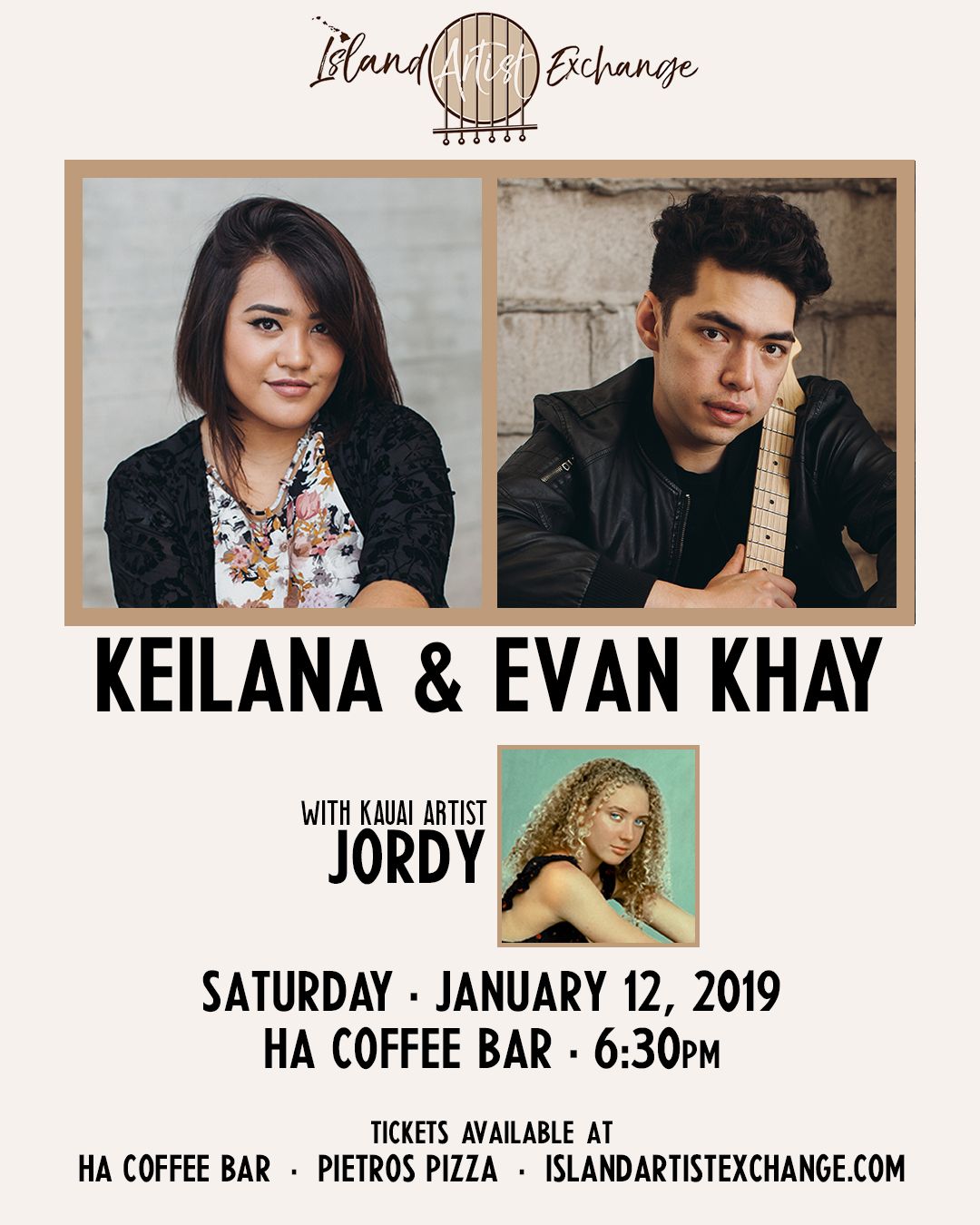 Na Hoku Hanohano Award Nominee EVAN KHAY and vocalist sensation KEILANA bring their solo shows together for a special performance here on Kauai for one night only.  Also featuring Kauai's own Jordy as the featured guest artist.  Clear your schedules and make sure you are at HA COFFEE BAR on JANUARY 12 for a show you won't ever forget! 
KEILANA is an up-and-coming R&B/acoustic soul artist from Honolulu, Hawaii. After earning her Bachelors of Arts in Music degree and becoming a classically trained vocalist, Keilana has found her footing incorporating her various genre inspirations to create a unique sound that showcases her voice and musical abilities. She intends to release her debut album in the fall of 2019. 
After picking up his first instrument at the age of six, EVAN KHAY has been pursuing his passion for music ever since. Since graduating high school, Khay has become a critically-acclaimed multi-instrumentalist, producer, singer and songwriter. His R&B/blues/acoustic rock-inspired debut album "Retrograde" received two Na Hoku Hanohano nominations in 2018. His new single, "Come Back Home to Me" with Keilana, is available now on all digital platforms. 
JORDY, a 16 year old Kauai Resident, has been singing since she could speak. She has been writing songs ever since she was six years old.  Jody picked up her first instrument, the ukulele, when she was in 5th grade and performed "Let It Be" by the beatles at a school talent show.  After a standing ovation she knew that music was the direction of her life.  Over the next few years Jordy learned how to play Piano, and guitar, to go along with the ukulele.  In 2017, she wrote her debut single "Summer '17" and released it worldwide. It now has over 25,000 plays on Soundcloud. At the beginning of October, 2018, she released her debut album "Call My Name", which can be found where ever music is streamed and sold. 
HA Coffee Bar, 4180 Rice St #101A, Lihue, HI 96766 
Presale $10, At The Door $15 
Buy Tickets at Pietros Pizza Lihue Or HA Coffee Bar 
Online at www.islandartistexchange.com 
More Info Contact Joey Charles 
Phone: 207-877-5160 
email: islandartistexchange@gmail.com